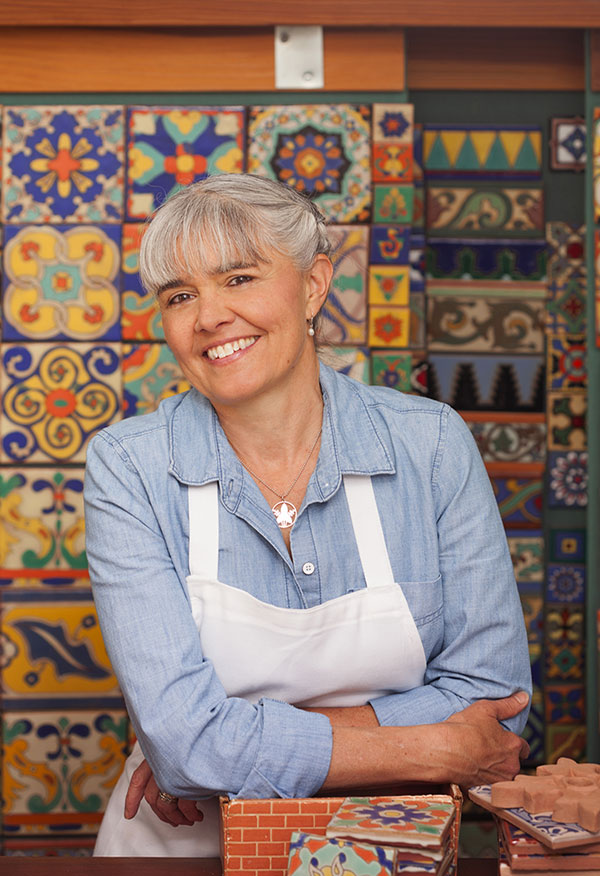 Native Tile and Ceramics Founder and Master Artist Diana Mausser believes every piece of tile tells a story.
Diana's own tile story begins with a matte-green and terra cotta tile depicting a medieval knight on a horse slaying a dragon. She encountered this tile while she was working as an assistant glaze technician at a tile company that specialized in pastels and floral tiles: A customer arrived with this mythical scene in need of restoration and reproduction. The tile's textures reminded her of the ceramic work she did at UCLA where she earned her BA in design. Diana convinced her supervisors that she could match the color and complete the project even though it was completely outside their normal scope of services. After matching the dragon greens and helping the customer restore the tile, Diana set off on her own adventure, founding Native Tile & Ceramics in a 500-square-foot rehabbed shed in a Marina Del Rey boatyard.
Diana started taking on small restoration jobs to help the company gain renown for its restoration-quality handcrafted decorative tiles in the California Mission, Spanish and Craftsman styles. In her first year of business, she lucked upon a wealth of clay supplies, including a decade's worth of copper carbonate, which she bought for a dollar from the infamous Metlox Pottery factory that was closing its doors for good. Her inner artist was released. Diana started recreating colors and textures of old glazes and designing her own versions of historic California-styled tiles.
In 1998, Native Tile moved to a converted 1940s stucco bungalow with a large backyard in Old Torrance. Here, in the company of two sun-loving cats and a few chickens, Diana works with her team of artisans to bring her tile designs to life. With over 1,100 distinctive Craftsman, Spanish, and Moorish-style tile designs created since that first dragon tile, Diana continues to tell a story through her tiles, always ready for another dragon to light up her imagination.